Even though Zoho CRM is a lightweight, easy-to-use software, it can be challenging to get the most out of it. It's not as simple as inputting your user information and account passwords. You need to create specific workflows that will make your company more efficient.
These Zoho CRM workflows are the key to making your business processes faster and more organized. Think of them as instructions that tell the software what to do when specific triggers occur. In this blog post, you will learn everything you need to know about working with Zoho CRM workflows.
There are many ways to define a workflow, but the simplest way is a sequence of tasks or events. When one action is complete, it triggers another action. The automation of tasks is an essential part of any company's workflow, especially when it comes to customer relationship management (CRM). Zoho CRM Workflows are the instructions for your team to follow. They help you organize the process of your workflow and make it more efficient. This means when you need to make changes to your workflow, you can do it quickly and easily. To simplify, workflow is a series of steps that help you manage your business. It uses data from various applications, like CRM, sales, marketing and more, to automate routine tasks and make you more productive.
You can learn how to set up workflows through learning and experience. If you're short on time, you can always certified Zoho partners like Erphub to set them up for you.
Why are Zoho CRM workflows important?
Zoho CRM workflows streamline business processes and make your team's life easier. They enable you to communicate more effectively and help you stay organized. Using Zoho CRM workflows, you can automate repetitive tasks and schedule events at specific times within the software. This makes your team more efficient, and it reduces the risk of human error. Because they're automatic, they save you time and money. And you can use them in a variety of ways - to close deals with customers, track leads, manage sales or route support tickets.
How to create a workflow in Zoho CRM?
To create a workflow in Zoho CRM, you first need to select a trigger. This is the event that will initiate your workflow. Triggers include the status of a form, records added to a specific folder, when a record is edited, and more. After that, you can add conditions and actions. Conditions are the instructions that determine which actions will be taken. For example, if a lead's status is set to "interested," you can add a condition that sends a message to the lead. Actions are the instructions that a workflow performs. Examples include sending a message, routing a ticket, creating a new record, updating an existing record or deleting it. You can add as many actions as you want to each condition.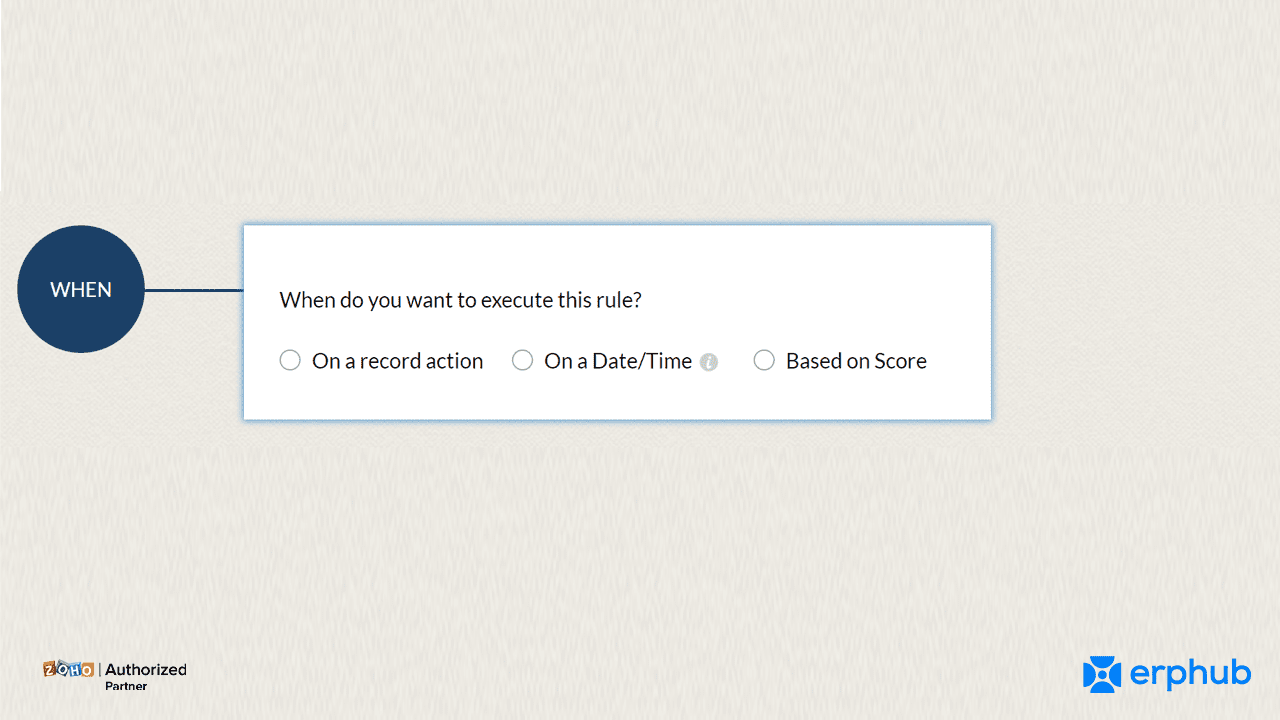 Define the outcome you want to achieve with your workflow
When you're creating a workflow, you must begin by defining the outcome you want to achieve with it. What problem are you trying to solve? What goal are you trying to meet? This will help you focus on what your workflow needs to do. It will also give you a general idea of how many workflows you need to create.
Specify the conditions that trigger your workflow
With your workflow trigger selected, you can now add conditions. These will determine which actions will be taken by your workflow. For example, you might create a condition that closes out a ticket if the customer asks for a refund. Or you might create a condition that updates a lead's status after a certain date. When adding conditions, be sure to follow the proper logical sequence. For example, you can't first update a lead's status and then close out a ticket.
Add actions to each condition of your trigger
After you've specified the conditions of your workflow, you can add the actions that should happen. This is where you decide what your workflow will do when a certain condition is met. You can add several actions to each condition, so you have lots of flexibility in how your workflow operates. For example, you can create a workflow that sends a message to a lead after they're added to a list, marks them as contacted after a certain date or closes a ticket after a certain date.

To make your business more efficient, you have to invest time in creating and managing your workflows. But it's worth the effort. Workflows will help you create consistency and better customer experiences. The certified ZOHO consultants here at Erphub have put together 5 basic workflows that you can use to get started.
Workflows also help improve your team's productivity and save time and money. However, you need to know how to create and manage Zoho CRM workflows properly. This will ensure your business runs as smoothly as possible.