In a business environment where time and resources are limited, project management is an important aspect of any organization. It is a process that monitors and controls the scope, schedule, cost, and performance of projects. Zoho Projects is an online project management software that offers all the necessary tools for PMs to manage tasks and team efficiently across different departments.

Whether you operate at a small company or a large corporation, Zoho Projects can help streamline your operations. In this blog post, we'll discuss why you should adopt Zoho Projects as your new PM tool and how it can benefit your organization.
Zoho Projects is one of the most popular online project management tools with more than 20 million users worldwide.
The software comes with a variety of features that enable businesses to collaborate and manage projects effectively. Its intuitive interface makes it easy to navigate and use the software, whether you are managing small tasks or working on a large-scale project with many team members.
Zoho Projects can be used as an online task management software, as well as a project management tool. It offers many features that can be used for both functions.
Why Should You Use Zoho Projects?
Zoho Projects offers a variety of features that make it suitable for almost any type of project. Here are some of the most important reasons why you should use it as your PM tool:
The software comes with a simple and intuitive interface that can be used by anyone. It features a clean design that makes it easy to navigate and find the information you need.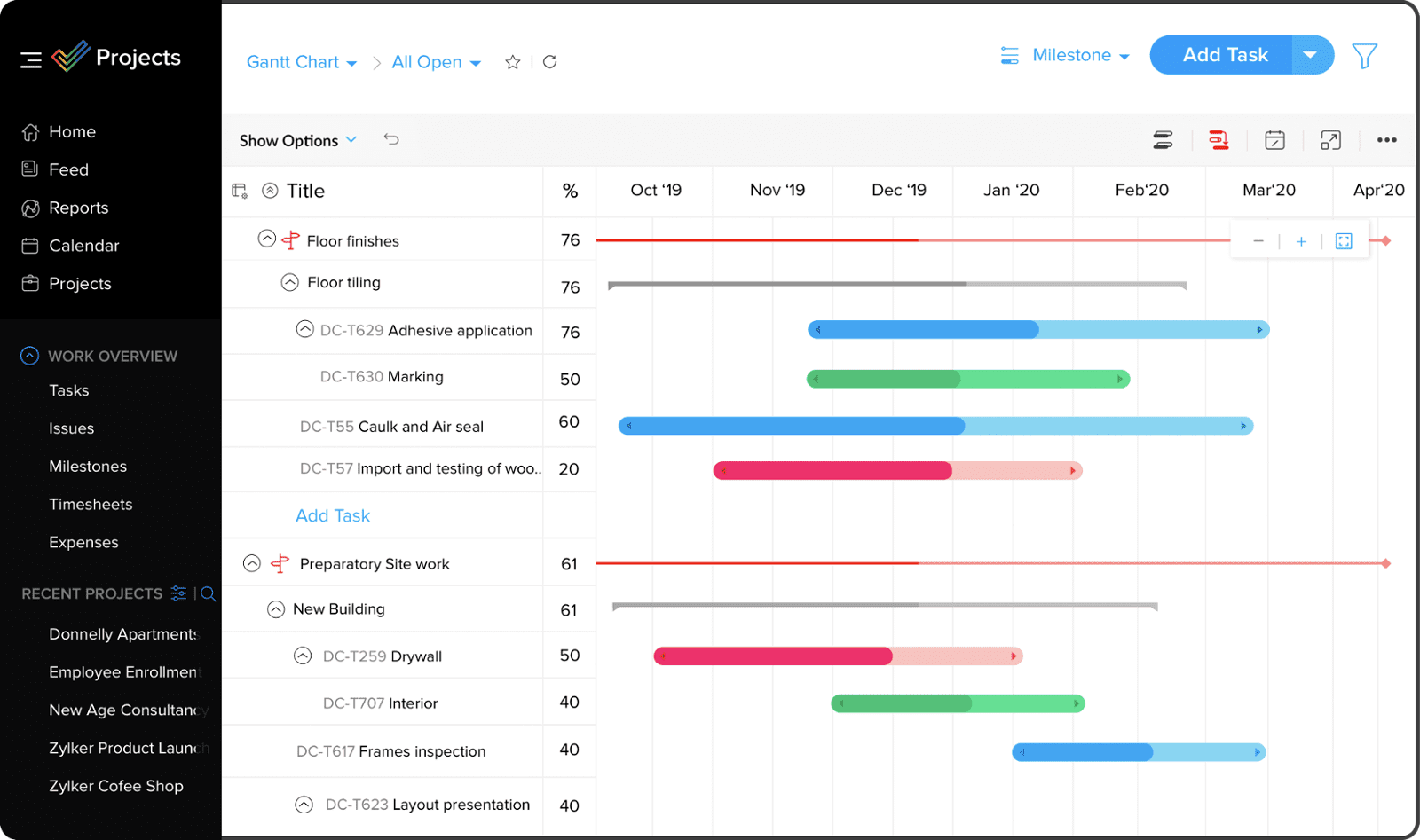 Collaborating for Improved Workflow

Zoho Projects has many collaboration features that make it easy to work with team members. Whether you are working with remote team members or colleagues in the same office, you can use the chat feature to share information and coordinate tasks.
The overall project feed allows you to see all updates across all projects you are a part of.
Managing Big Projects with Customizable Dashboards
If you manage large-scale projects with different phases and modules, Zoho Projects is the right tool for you. It offers the ability to customize dashboards with different widgets, charts, and graphs according to your needs. It can help you keep track of your progress and provide valuable insights about the project.

Benefits of Using Zoho Projects
Zoho Projects offers robust reporting that you can use to identify project strengths and weaknesses. It can help you identify areas where you can improve your operations.
The ability to communicate effectively is important in any organization. Zoho Projects can help you collaborate more effectively with team members.
Zoho Projects can help you protect your data by providing password-controlled access to sensitive information.
Integration with Other Apps
If you are already using other Zoho apps, you can easily integrate Zoho Projects with them.
Zoho Projects is a popular online project management tool that can help you track your progress and collaborate with team members. If you are looking for a new tool to manage your projects, Zoho Projects provides a variety of useful features that can help you get the job done. With its intuitive interface and robust features, Zoho Projects is the right choice for enterprises of all sizes.